Top 10 Power Banks in India (2016/2017): Best Sellers with Reviews
People have become tech savvy, more than ever. Almost everyone now has a smartphone, and other handheld devices like tablets, action cams, gaming consoles, mp3 players, digital cameras etc. All of these come with a concealed battery underneath their casing, few removable and in the present time – most aren't. However, almost every mid-range smartphone of current time suffers from battery issues – none tend to last for a whole day with heavy usage. Few very latest flagship smartphones do, but there aren't many. At such an hour when your smartphone is about to die and you are far away from a power outlet, only a power bank can save your back. If you are planning to get yourself a power bank in 2017, then you are in luck. Here's a list of top 10 power banks in India in 2017.
Looking for a best combination of battery capacity, price and other good features? Please go through the below review and we are sure that you will be able to find one that suits you best. We have included the most branded as well as non-branded ones in this list. Here, you can find those power banks with best power charging capacity and is among the top selling brands.
Whether you are looking for more than 10000 mAh in less than Rs. 2000 or branded power battery travel pocket charger, or more than 10,000 mAh capacity power banks in less than Rs. 5000, you can get it all with their reviews and brand information in the below compilation.
Mi Power Bank (10,000 mAh)
Chinese tech giant Xiaomi has specialized in manufacturing smartphones and related gadgets. They have introduced the Mi power banks last year and it has become very popular in the market now. Currently the 2nd generation of Mi power banks are in market, and they are more efficient than the first generation of Mi power banks. 10,000 mAh is the most popular Mi power bank in sales right now. The metal jacket of this power bank protects the batteries from any outer impact, and works to keep the temperature normal as well. Mobiles plugged in to the a 5V/2A plug can be fully charged in 5.5 hours. It also includes features like protection from over voltage and over current. This power bank weighing 209 grams is easy to carry as well. It has come with no batteries included and does not require any battery.
[amazon_textlink asin='B01M7Q7HXE' text='Buy Now RS 1299 ' template='ProductLink' store='atat06-21′ marketplace='IN' link_id='df8e6d07-097b-11e7-a023-5128f355f2dd']
IntroCircuit  Power Banks (11,200 mAh)
The IntroCircuit 11,200 mAh power bank comes in a very durable brushed aluminum casing with all the necessary charms a modern power bank should have. Also, the casing makes the batteries bump resistant, once you put this gadget in a pocket or backpack there's nothing to worry about. It has dedicated ports that can support charging your I Phones, I Pads and most of the Android devices. The output port comes with 2 different power specs, one with 5V/2A output and the other with 5V/1A output. A latest model of this power bank is also available in market with 15000 mAh capacity, which we have not included in our list of top 10 power banks because of its high price.
Price: Rs. 4,999
Intex Na IT-PB12.5K Power Bank (12,500 mAh)
Intex also entered the Power Bank market with some good quality stuffs. The Intex Na IT-PB12.5K 12500 mAh Power Bank is one of the most popular among them. It comes with 3 output power slots, 5V/1A (Max) & 2x5V/2.1A (Max). This 290-gram weighing power bank also has a Li-Ion battery included in it. User can use this power bank to charge their Android phones as well as the Apple I Phones. It is very difficult to find another power bank of the same quality at a similar price.
Price: Rs. 999
Asus ABTU005 Zen Power Bank (10,050mAH)
Asus already had a very good presence in the smartphone market in India. Along with it they have also started contributing in the smartphone accessories sector as well. Asus ABTU005 is a latest power bank released by Asus with a capacity of 10,050 mAh. This 215-gram weighing power bank comes in three different color variants- Gold, Silver and Blue. It has features like Temperature Protection, Reset Protection, Short Circuit Protection, Output Over Voltage Protection, Input Over Voltage Protection, Input Reverse Direction Protection etc.
Price: Rs. 1,385
OnePlus Power Bank (10000 mAh)
Along with the manufacturing of high quality smartphones, OnePlus has also started contributing in the power bank market as well. The 10,000 mAh power bank released by OnePlus is one of the most sold power banks available in the market right now. The dual USB output of this device helps in charging 2 devices simultaneously one at an output power of 5V / 2A and the other at 5V / 1A. Another highlight of this power bank is the availability of onsite warranty which is not common for such devices. It also has features like overheating protection, over charge protection and short circuit protection. Two different color variants available are Silk White and Sandstone Black.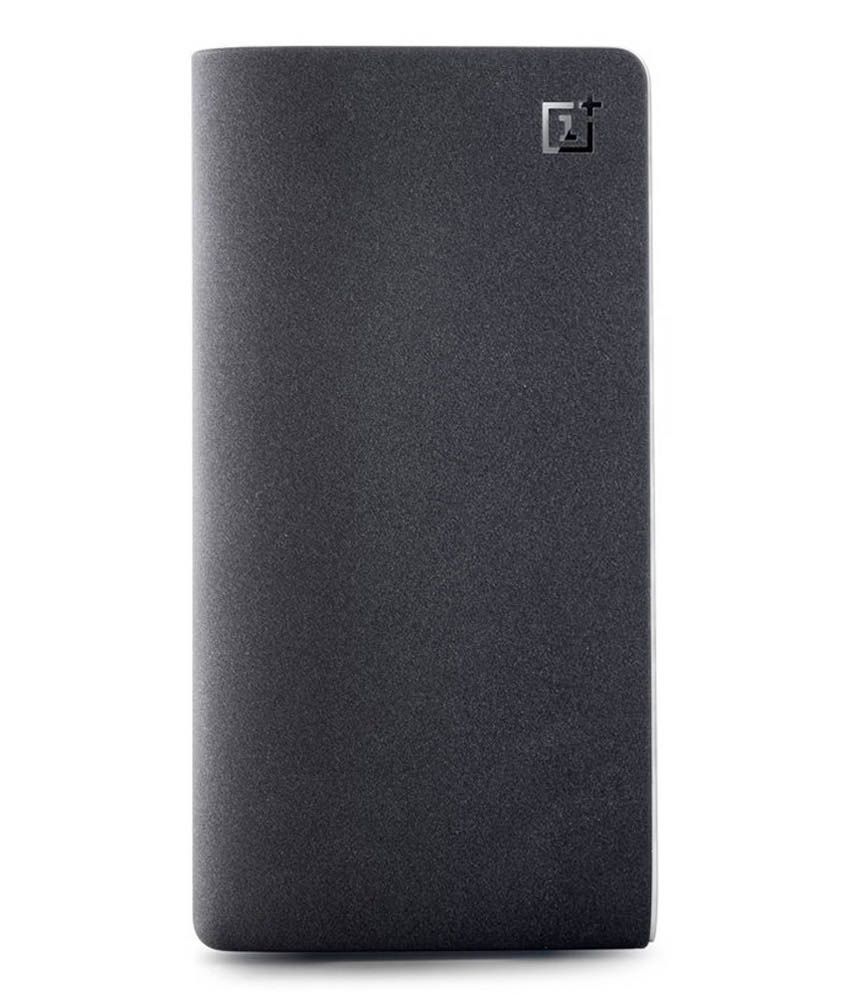 Price: Rs. 1,799
PNY BE-740 BE-740 Power Bank (10,400 mAh)
This good quality power bank comes in a cylindrical shape. The Li-Ion battery of PNY BE-740 has the charging capacity of 10,400 mAh and weighs 238 grams. It also has an LED torch and a power indicator also. This indicator helps to identify the available power in the device. It can support both micro and mini connectors and provides an output power of 5V/2.1 A. This device comes with a 1 year limited warranty only.
Price: Rs. 1,169
Boat BPR100 Power Bank (10,000mAH)
Among the many power banks available in the market, and the ones we are included in our list, this one looks the cutest in design. The LCD display that shows the battery status is very much helpful for the users in identifying the status and charge the device accordingly. This power bank has come with dual USB 3.1 A output ports. It also includes features like overcharge protection, over discharge protection, short circuit protection etc. The Boat BPR100 Power bank weighs 200 grams and comes in white color.
Price: Rs. 2,490
Adata PT100 Adata 10000 mAh Power Bank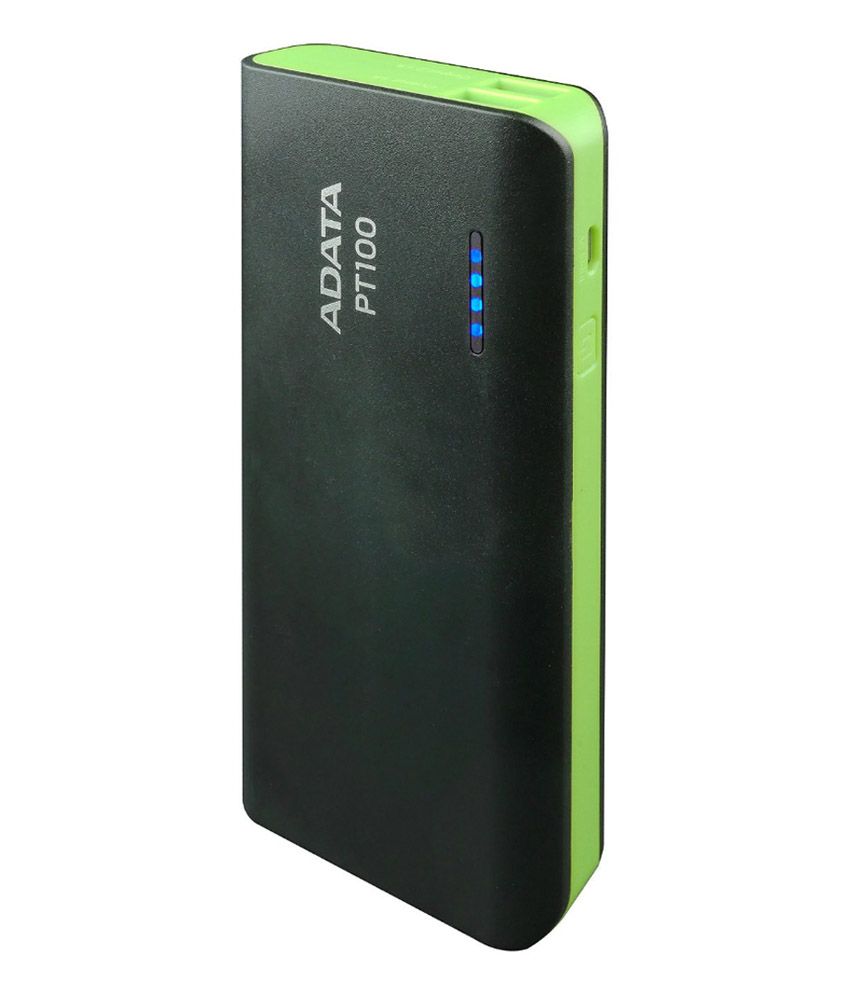 The Adata PT100 Adata 10,000 mAh Power Bank comes in Black Green color and weighs 285 grams. The is the heaviest power bank in our list of top 10 power banks. It includes a micro connector and is mainly intended for mobiles phones only. Coming with a built-in Flash light, it has some other best features included in it. They are the Over Discharge Protection, Over Voltage Protection, Over Current Protection, Short Circuit Protection and Over Charge Protection. This device is capable of providing two different power outputs. The first one is with a 5V / 1A output and the second one is with a 5V / 2.1 A.
Price: Rs. 1,049
Huawei Honor AP007 (13000 mAh)
Being aware of the importance of power banks in current market, Huawei also started manufacturing the power banks for Android and other devices. Huawei Honor AP007 is one of the most popular among them. The battery type of this power bank is Li-Ion type and it has a capacity of 13000 mAh. The power input required for the Huawei Honor AP007 is 5V 2A. It can deliver the same output as well at 5V 2A. It has 2 output ports, both USB 2.0. Over charge protection, LED indicators and fast charge feature makes it preferable for the users. This universal compatible power bank can be used to charge the mobile phones, tablets, media players and digital cameras. This power bank weighs 325 grams and is made of aluminum body.
Price: Rs. 1,649
Ambrane P-1310 NA 13000 mAh Power Bank
Ambrane is one of the most popular power bank manufacturer in India at this moment. They are available with a wide range of products for the users from the least capacity power banks to the maximum capacity ones. Ambrane P-1310 13000 mAh Power Bank is one of the best among them which is coming at a very affordable price. This power bank with a 13000 mAh capacity comes with a Li-Ion battery. It has included 2 micro USB ports which can be used for output purpose. The power input and output rates are 5V 1A & 5V 2.1A respectively. This power bank can be used with multiple devices like Smartphones, Tablets, Digital Cameras etc.
The Ambrane P-1310 13000 mAh comes in multiple colors including White and Black, White and Blue, White and finally black also. Weighing 250 grams, this power bank comes in rectangular shape. Some of the most important features of P-1310 are fast charging, over charge protection and over discharge protection. Users would like to know that it also has features like short circuit protection and over current protection. The P-1310 has a plastic body and had very good looks.
Price: Rs. 799
Conclusion
The pricing might vary in local markets. Be aware of fake products while shopping online since the online stores are full of counterfeits, and there's a good margin of probability to fall for these. So we highly recommend to buy the product which assures money-back guarantee of minimum of 30 days or more. And to be on most safer side, you should buy only the branded ones for which you have a service center near you.