Best DSLR Cameras Under 30000 INR – 2017
Are you looking for a best DSLR camera that comes in the price range of 30,000 INR? Here, we are making our best effort to provide you with the detailed review of the 5 Best DSLR Cameras under 30000 that is currently available in the market. Before you proceed with your purchase, you must be aware of the features that will make a DSLR perfect. It is not the price or the looks that make it the best, but the below features determine the quality of a DSLR.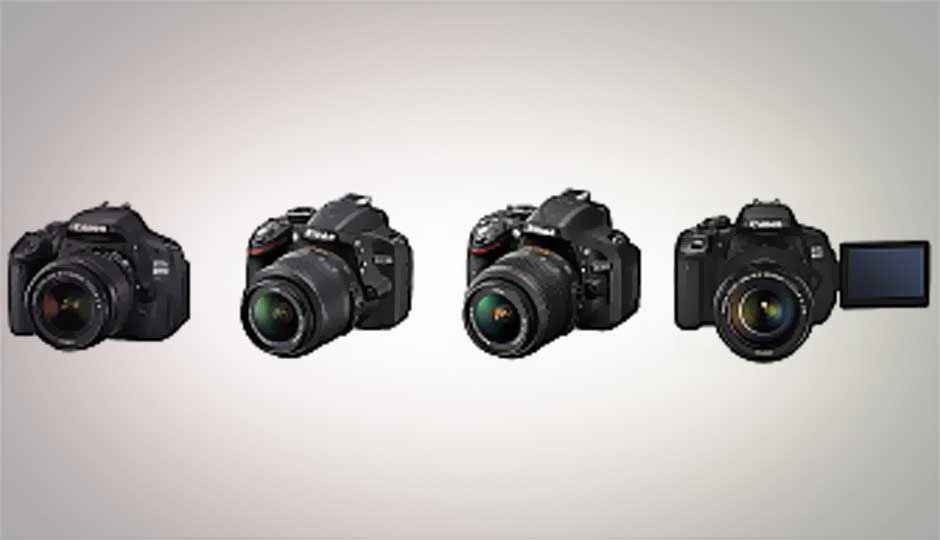 Sensor Size
Editing Features and Modes
Megapixel Resolution
Lenses
Video Recording Capabilities
After considering all the above points, we are hereby giving the review of the best 5 DSLR cameras available in the market below 30K.
Nikon D3400 DSLR CAMERA
Coming with a 24.2-megapixel DX-format CMOS sensor having a size of 23.5 * 15.6 mm and EXPEED 4 image processor, the Nikon D3400 provides the users with an excellent photography experience. The sensitivity range of this DSLR range from ISO 100-25600. This helps it in clicking good quality images and videos at various lighting conditions. The lens with a focal length of 18-55 mm is another strong feature of the Nikon D3400. The sensor-processor combination allows a continuous shooting rate of 5 frames per second. It also provides a video recording of Full HD 1080p at 60 fps. The SnapBridge feature of the D3400 supports sharing of images wirelessly from the camera to the mobile devices. The TFT LCD of this DSLR is 3 inches wide.
Online Price: – Rs. 29,191
Read more about Nikon D3400 at :- Detailed Review of Nikon D3400
Canon EOS 1300D
Canon released this entry level digital single-lens reflex camera in March 2016. Provided with features like Wi-Fi and NFS, the Canon EOS 1300D provides instant sharing of images and videos.  The 18.0 Megapixel CMOS APS-C size sensor with a sensor size of 23.5 x 15.6 mm is the highlight of this DSLR camera. It is provided with a sensitivity range of ISO 100-6400. Option of upgrading to ISO 12800 is also possible which will help you click high quality images even in low light areas. The DIGIC 4 + processor makes the processing part complete. The focal plane shutter of this camera is electronically controlled and has a shutter speed of 1/4000 sec. Along with the Image stabilizer and self-timer, the 1300D provides continuous shots of up to 3 shots/seconds.
View more details of Canon EOS 1300D at :- Canon EOS 1300D Specs and review
Online Price: – Rs. 29,191
Nikon D5200 DSLR Camera
Like the other DSLR cameras in this price range, this one is also an entry level DSLR. The Nikon D5200 Digital SLR Camera comes with a sensitivity range from ISO 100 to 6400, that provides you with a professional photography experience. This 24.1 Megapixel CMOS sensor and 39-point AF system included in this DSLR, makes this one of the best cameras under 30K. The vari-angle high resolution LCD monitor of D5200 is 3 inches wide. The image processor included in this camera is EXPEED 3 which is quite good at this price. 3D Focus tracking, Active D-Lighting, 2.016-pixel RGB metering sensor and High Dynamic Range mode are some other features. For providing special effects to your images and videos 7 different options are available.
For detailed review of Nikon D5200 go to :-  Complete specs and detailed review of Nikon D5200
Online Price: – Rs. 26,999
Canon EOS 1200D DSLR Camera
Canon EOS 1200D is another entry level DSLR camera released by Canon which meets the user expectations. This 18-megapixel camera is intended for those who are new to the World of photography, but loves to make it as a part of their life. The CMOS sensor included in this camera has a sensor size of 35.9 * 24.0 mm. It has a sensitivity range from ISO 100 to 3200. The Canon EF mount lens of the EOS 1200, has an optical zoom of 3X. The lens also features manual focus and dust reduction as well. The DIGIC 4 image processor makes the processing part of this camera perfect.
Online Price: – Rs. 26,999
For more details about EOS 1200D, visit :- Canon EOS 1200D Review
Nikon D3300 DSLR Camera
Nikon D3300 DSLR camera is another entry level camera released by Nikon, that is quite strong in the configuration part. This 24.2-megapixel camera comes with a CMOS image sensor with a sensor size of 22.0 * 14.7 mm. This sensor does not have an optical low pass filter.  The ISO range of 100 to 12,800 makes its suitable for clicking high quality images.  The EXPEED 4 image processor perfectly does the purpose what it is intended for. Its ability of clicking good quality images at low light and minimum noise shooting makes it an awesome camera at this price range. Full-color RGB metering sensor is another highlight of this camera.
Interested in reading more about Nikon D3300, go to :- All about Nikon D3300
Online Price: – Rs. 26,499